Jensen East Nationals
-

A History of the Meets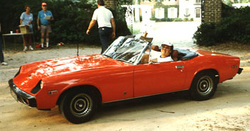 Aaron Gross and the Tangerine Terror
Begun in 2000 largely through the inspiration and hard work of the late Aaron Gross of Atlanta, owners and fans of Jensen automobiles gather annually at different locations throughout the Eastern United States to celebrate all things Jensen related, meet each other and to generally have a good time. While normally attracting Jensen owners located in the US states east of the Mississippi river, attendance is open to all with an interest in the marque (indeed whether current owners or not) and the event regularly attracts attendees from Canada and the western US and has welcomed on several occasions visitors with an interest in Jensen automobiles from Britain and Australia. While certainly centered around the shared love and fascination of things Jensen Motors-related, the event is really a celebration of the people who shed tears, spill blood and pour money over these cars. It also recognizes in equal measure the love and tolerance of the family members domiciled with those of us afflicted with Jensen-itis. Activities at the annual meet include non-competitive and fun driving events, local history tours and attractions, tech sessions, organized and impromptu meals and many other social activities which are targeted to appeal to car owners, admirers and their supporters. While culminating in a car show which is open to viewing by the public and an awards meal, the emphasis is always more on fun than competition.

---
The Cars - from soup to (you've got to be) nuts!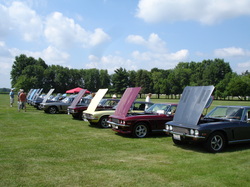 Jensen Interceptors at Kalamazoo 2010
The meet always includes multiple Jensen Interceptors and Jensen-Healeys in all their various iterations and will often include the less common Jensen GT plus occasionally some real Jensen rarities such as FFs, CV-8s, 541s and other surprises. Cars without Jensen Motors badges but a shared history at the West Bromwich factory such as the Volvo P1800 and Sunbeam Alpine/Tiger are welcomed and have attended previously. And what the heck; we have often had a Triumph Spitfire join us and we've even had a vintage Citroën SM in attendance, so one would be hard-pressed to say that we are not an inclusive group!

---
The Venues so far .....

Inaugural event "J2K"

New Glarus, WI

"Tour de Chesapeake"

"Enchanted Mountains"

Nashville, TN

"FreedomTour"

"Land of Lincoln"

"Shenandoah"

"Jensens in the Glen"

"PA Dutch Country"

"Great Lakes Event"

"Adirondack Experience"

"Back Roads Tour"

"Tri-Sate Historical Tour"

"Barnstorming Wisconsin"

"Mid-Hudson Valley Tour"
"Crossroads of America Tour"


"Backroads & Covered Bridges"


"Vistas & Views"
"Meet Me in St. Louis"
" tentative "
"Back to our Roots" - tentative